Danny Lee remains in Masters hunt

NZ Newswire
8/04/2016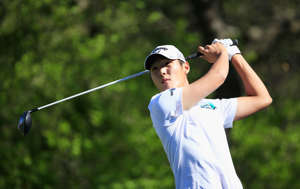 Danny Lee lamented three-putt bogeys at the final two holes but was nonetheless pleased with his second round at the Masters in difficult conditions.
New Zealand No.1 Lee shares third place and is just two shots off the pace at the midway point of the year's first major. In even gustier conditions than the first day, Lee backed up his opening 68 with a two-over 74 at Augusta National to be two-under, tucked behind two heavyweights.
Overnight leader and defending champion Jordan Spieth remains on top, the world No.2 from the United States also shooting a 74 to be four-under.
One shot behind him is third-ranked Northern Irishman Rory McIlroy, whose 71 was the equal-low round of the day and leaves him on target to secure a career grand slam of major wins.
Lee sits level with American Scott Piercey, with three golfers a shot behind them.
Shooting under par was enormously difficult, leaving Lee content to grind it out early in the day before the winds peaked in the afternoon.
His slip-ups were a double bogey on the par-four third hole and bogey fives on the 17th and 18th.
"I'm very happy with where I finished but very disappointed that I made two three-putts in a row," he said. "They were all good putts and it just happened. What can you do?
"Yesterday I felt like I made a lot of putts, but today I wasn't making enough. And I had two balls in the water on 12 and 13 (so) two-over is not a bad score."
The 25-year-old, publicly at least, has no huge expectations over the weekend.
"I'm just happy I get to play on the weekend and I have a chance," he said. "I've always been an aggressive player, so I don't think that's going to change."
World No.38 Lee is competing at the Masters for just the second time, having missed the cut as an amateur in 2009.