David Cameron to stand down as MP for Witney

The Guardian
12/09/2016
David Cameron is standing down as the Conservative MP for Witney two months after resigning as prime minister.

The former Conservative leader said he had thought about it long and hard during the summer and had decided that it was not possible to be a proper backbencher having been at the helm of the government.

He said he would offer his full backing to the candidate who stood in his place, arguing that he did not want to be a "distraction" to Theresa May's government.
In an interview with ITV the former prime minister said: "I have thought about this log and hard over the summer and I have decided the right thing to do is to stand down as the member ofparliament for Witney.
There will be a byelection. I will give the Conservative candidate my full support.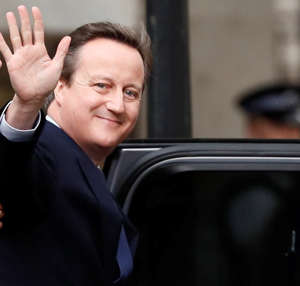 "In my view, with modern politics, with the circumstances of my resignation it isn't really possible to be a proper backbench MP as a former prime minister.
I think everything you do will become a big distraction and a big diversion from what the government needs to do for our country," he said.
An ally of Cameron argued that it wasn't meant to be a statement about May's policies, but rather a move that would support the new Conservative leader.
They said the "speed of events" following the referendum prevented him from making this decision straight away, and he wanted to spend the summer considering his future.
They said that PM would be focusing on "causes close to his heart" including the anti-corruption agenda, transparency on aid, fighting dementia, schooling and life chances.
Some critics of May's government have suggested that she has shifted to the right from Cameron's modernising agenda.
The previous prime minister was critical of grammar schools, for example, and left Downing street urging his successor to maintain promises on international aid.
While there has been no suggestion of a shift in policy on the latter, some have questioned the decision to appoint Priti Patel, who has been critical of DFID's work in the past. Cameron's life chances strategy, which he had planned to unveil in the summer, has yet to be revealed by May's government although she has spoken about similar causes.
However, Cameron's ally insisted that his decision was not linked to any of the changes, arguing it was in fact the opposite motiation.