David Cunliffe bows out

NZ Newswire
11/04/2017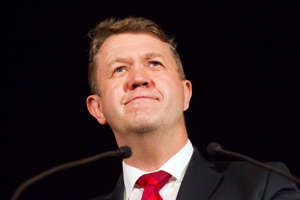 Labour's long-serving MP and former leader David Cunliffe has left parliament's debating chamber for the last time.
Mr Cunliffe first came to parliament in 1999, and in 2014, as leader, took Labour to its worst defeat in 92 years.
He didn't dwell on that in his valedictory speech on Tuesday, which covered his early years in parliament and the ministerial posts he held in Helen Clark's government.
Mr Cunliffe said his core belief had always been that the economy must serve the people, not the other way around.
His speech steered clear of controversy, and his only mention of the 2014 election was: "I could write a book about it but I doubt many people would believe it, or even read it.
"I recognise my delivery could, at times, have done with some work."
Mr Cunliffe is joining a management consultancy, and said the time was right to change careers.
"I've done what I could, and it's time to move on. I look forward to just being a voter."
Mr Cunliffe stood down after the election and was replaced as leader by Andrew Little.
His departure was timed to coincide with that of former prime minister John Key, so the balance of parliament isn't affected.