De Bruin to mull netball retirement

NZ Newswire
21/06/2017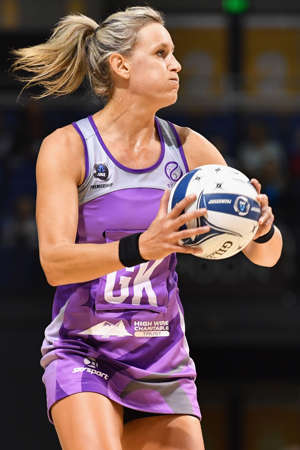 © Kai Schwoerer/Getty Images Leana de Bruin Former Silver Fern Leana de Bruin has given herself two weeks to make a decision on whether she will play another year of the Netball Premiership.
The Northern Stars captain is turning 40 next month and is weighing up whether to call time on a marathon career, having debuted for her native South Africa in 1999.
De Bruin came back to haunt her former team the Magic in Hamilton on Wednesday night, pulling off a crucial steal that ended the home team's play-off hopes.
The Stars suffered a 58-45 loss in the final game of their inaugural campaign but denied the Magic the 16-point winning margin they needed to advance.
De Bruin dropped a hint post game that may have been the final act of her professional career.
"I need to sit upon a rock and think about these things. I said to (teammate) Kayla Cullen after taking that intercept that I could probably retire on that," De Bruin said.
Her ongoing injury problems may well be the deciding factor after calling it quits from the Silver Ferns last year. She clocked up 104 Tests since switching allegiances to New Zealand in 2002.
"I've taken a lot of beating on that ankle and it's a niggle that I have had the previous season so that's something that I've got to take a look as well," she said.
If De Bruin does bow out of the professional game the towering defender admits there will be plenty she misses about playing netball at the highest level.
"The friendships and the competition as I'm a very competitive person and I love been tested," she said.
However, her former Silver Ferns and Magic team mate Casey Kopua believes she could play another season if her desire is still strong.
"It's her choice and it's a hard decision to make but if the mind is willing and the body can still do what she wants it to do then why not?" Kopua said.