Death risk for deaf Kiwis in evacuations

NZ Newswire
7/03/2017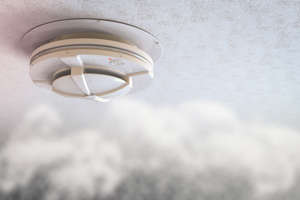 © Getty Images When a smoke alarm went off at a hotel last year there were two outcomes for Wellington woman Rachel Noble - a good night sleep or death.
As a deaf woman she was completely oblivious to why everyone else was so tired the next day, not realising that the entire building had been evacuated in the middle of the night.
Fortunately for her the building did not burn down and she and her two deaf roommates lived to tell the tale to parliament's government administration select committee on Wednesday.
Kim Robinson asked her to share the anecdote in support of his petition, signed by 737 people, to make visual smoke alarms compulsory in all public buildings.
"I don't feel safe," Mr Robinson signed.
"As a deaf person I don't know when a fire alarm goes off. I might know when I smell the smoke but it might be too late by then and that's a reality for me in everyday life as a deaf person."
Ms Noble's story is shared by many, including Auckland University student Dean Buckley who was left alone in a campus building during a fire drill.
He didn't realise the building had been evacuated until he saw an angry fire warden coming toward him.
The university's response when he complained was to stay near other students so he will know when they leave.
The committee, chaired by Labour MP Ruth Dyson, laughed when the were told the stories and the university's response, out of incredulity rather than to joke about the danger.
"I think we shouldn't make light of it," Ms Dyson said.
"We should take this issue very seriously. If our primary responsibility as a parliament, in this space, is to ensure public safety then all members of New Zealand society need to be included in that safety and I think we're missing out for the deaf community and hearing impaired as well."
Mr Robinson said some possible solutions had been offered, including a mobile phone app that would alert users to danger through flashing lights.
But who sleeps cuddled up to their phone, he questioned.
"Politicians," Tim Macindoe joked, though it was acknowledged the app was not an acceptable solution for most.
Mr Robinson requested costs from five companies to present to the committee, but only one responded.
He was quoted up to $2000 per floor to add lights to an existing system, or $7000 per floor in a new building.
"I my view it's really expensive, but I think if the law changed then the companies would actually have to re-address the price that they're charging," he signed.
Current standards in New Zealand offer visual alarms as an option, but Mr Robinson believes the bias remains toward auditory alarms.