Defence Force's Wellington headquarters uninhabitable for a year

NZ Newswire
15/11/2016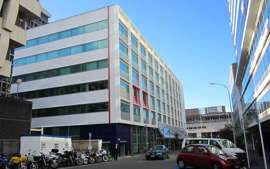 The Wellington headquarters of the Defence Force has been deemed uninhabitable following Monday's quake.
The multistorey office building at 2 Aitken Street was opened in 2007 and documentation shows it was built to "high seismic and security standards".
RNZ understands its 1200 staff have been told they will not be able to return for a year because of damage.
The Defence Force's office on Thorndon Quay is also closed due to yesterday's flooding and all Wellington defence staff are working from home until further notice.
The Defence Force has been contacted for comment.
A 10-storey building in nearby Molesworth Street, which is at significant risk of collapsing, survived the night and its future could be determined today, says mayor Justin Lester.
The building - located at 61 Molesworth Street - was cordoned off yesterday after engineers doing post-quake checks discovered a major structural beam had fractured "like a bone".
Civil Defence said this morning there had been no further quakes that had threatened the structure of the building, but the cordons could stay in place for days, or even months.
However, Wellington Mayor Justin Lester says a decision on whether the building has to come down could be made as soon as today.
He told Morning Report they did not know whether the building could be repaired or would have to come down, but the latter may be the best option if it could not be inhabited long term.
He said there was some subsidence beneath the building, and a decision could be made in the next few days, if not today.
"So we just need to understand - is it viable for repair, and if not, are we best to take it down? So that call will have to be made. And we've seen it with other buildings, the BP House for example has been taken down over the last few months, because that had earthquake damage back in 2013."
Mr Lester said the current cordon was quite conservative, but it would be reduced in time.
Pipitea street closed over falling debris fears
A nearby street in Wellington has also been closed because of concerns debris may fall off a building.
Civil Defence has cordoned off Pipetea Street in the central city, as it was worried about the facade of Pipetea House - the offices of the Security Intelligence Service.
Civil Defence said people who usually walked through the affected areas should look out for guides who would point them to an alternative route.
Police will be stationed on the corner of Mulgrave and Aitken Streets to direct traffic.
People working at nearby buildings - including New Zealand Rugby House, St Paul's Cathedral and the Thai Embassy - were hurriedly told to evacuate yesterday, and it was unlikely they would be allowed back in today.
Some houses accessed off Collina Terrace have also been evacuated.