Dev Patel nominated in Kidman film Lion

NZ Newswire
24/10/2016
It's been hotly tipped to roar into awards season and Australian/American/British film Lion has picked up its first nomination.
The film, based on a true story, was shot partially in Tasmania and stars Nicole Kidman as the adopted mother of a young man played by Dev Patel who goes on the hunt to find his birth family in India.
Patel has been nominated for the Best Actor award in the 10th Asia Pacific Screen Awards (APSA), which take in films from 70 countries and areas, stretching from Egypt in the west to the Cook Islands in the east, and from Russia in the north to New Zealand in the south.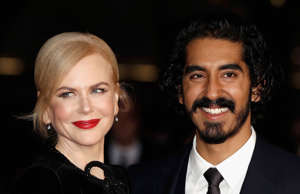 © John Phillips/Getty Images for BFI Nicole Kidman and Dev Patel attend the 'Lion' American Express Gala screening during the 60th BFI London Film Festival The nomination comes shortly after Variety's recent prediction that Lion would be included in the 10 best picture nominees at the Oscars this year, with Kidman tipped to be included in the Best Actress nominations and Patel as a potential Best Actor nominee.
The APSA nominations were chosen by a jury headed up by Oscar-winning producer Lord David Puttnam (Chariots of Fire, The Killing Fields) with 39 films from 19 Asia Pacific countries and areas nominated.
The winners of the Asia Pacific Screen Awards will be announced on November 24 during a ceremony in Brisbane.