Digger recovered from Kapiti waves

NZ Newswire
30/07/2016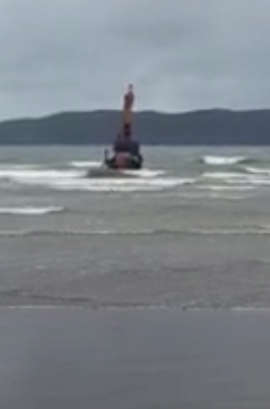 A large digger has been salvaged from the surf off Paraparaumu Beach north of Wellington but how it got there is unclear.
The digger belongs to a contractor who had been doing work to repair the coastline, which was ravaged by a storm last weekend.
A Kapiti Coast District Council spokeswoman said the council didn't know how it got there but there was speculation someone drunk may have taken the digger on a joy ride.
It was hauled out at about midday on Saturday.
"Mills Albert were able to jump into action to carry out urgent protection works for us at short notice this week following last weekend's wild weather and we are very disappointed to see their equipment vandalised and public safety put at risk in such an irresponsible way," said Sean Mallon, the council's group manager of infrastructure services.
Earlier the council reported two rows of nearly 270 reinforced concrete blocks had been put in place on Paraparaumu Beach to protect a sewer line.
A resident wrote on Facebook that the northbound lane of State Highway 1 near the Fisherman's Table restaurant to the south could be lost to the sea in further storms.
The council replied that NZTA had carried out temporary repairs and more permanent strengthening work would be done later.