Dildo Baggins, viral cows: NZ's wacky year

NZ Newswire
29/12/2016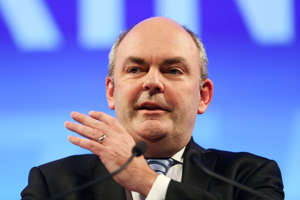 © Hagen Hopkins/Getty Images Steven Joyce New Zealand might be a little country at the bottom of the world, but it can always be relied on to produce some of the world's quirkiest, funniest and in some cases, ridiculous, news - as was the case in 2016.
'DILDO BAGGINS '
Who else but Lord of the Rings-loving Kiwis would bestow the name "Dildo Baggins" on a politician? Economic Development Minister Steven Joyce earned the unfortunate moniker in February when a protester thwacked him in the gob with a thrown dildo. Proving he was no stiff, Mr Joyce even tweeted for US-based TV host John Oliver - known for lambasting Kiwi affairs - to get the inevitable comedic drilling "over with". Mr Oliver obliged with a nearly five-minute lampooning on US television. Former Prime Minister John Key was less impressed. Dildos connecting with government minister's mouths was not "the right image for New Zealand", he said.
CROWDFUNDED BEACH
Kiwis are known as a community minded bunch, and in February they proved it. Coming up with the idea to buy a private Abel Tasman beach so it could be returned to public ownership, a small group began a crowdfunding drive to raise the cash. Soon 40,000 people together had contributed more than $2 million. Even the government pitched in $350,000 for the purchase of the seven-hectare Awaroa Inlet property. Now that is public policy with a twist.
WAVING THE FLAG
New Zealanders bravely faced their own Brexit moment in March. At stake was the design of the nation's flag and whether a silver fern should replace the Union Jack? More than two million Kiwis hit the booths in a national referendum process costing $26 million, with 56.6 per cent of voters eventually deciding the Union Jack could stay. But not before bemused onlookers from around the world had lamented that an early design favourite featuring a Kiwi with laser eyes had been axed from the flag shortlist.
THE GREAT MINISTERONI
New Zealand had the honour of hosting the world's first Pastafarian wedding in April. Conducted by the Church of the Flying Spaghetti Monster, it was a celebration of pasta and wackiness. "The Flying Spaghetti Monster created the world. We know that," marriage celebrant, Karen Martyn, aka the Ministeroni, helpfully explained on the day. Starting in the US as a protest against religion, the group had subsequently gained approval in New Zealand to conduct marriages. That left the happy couple free to exchange wedding rings of pasta.
COCAINE BUST
If Hollywood movies are anything to go by, cocaine dealers like to make style statements. And that seemed to be the case in July when smugglers chose to use a large diamante-encrusted horse head statue to import 35 kilograms of cocaine. When New Zealand Customs sniffed out the operation it was a record-breaking bust, but no doubt it is the choice to hide the drugs inside a glittering horse head that should one day ensure it becomes the plot for a movie.
MISSING COWS
One would expect dairy specialists New Zealand to be experts on cow security. Yet in August, around 500 cows mysteriously vanished from a South Island property in Ashburton. No culprit has been found, leaving farmers, police and the public udderly confused.
TRAFFIC STOP
Christchurch residents driving through one city intersection will be especially hard pressed to come up with a believable excuse for running a red light. That's because the city's council has erected 18 traffic lights on the spot, a move described by some locals as bizarre and an overkill. After all, everyone knows Japan and New Zealand share earthquakes in common, but do both countries really have Tokyo-levels of traffic?
KAIKOURA COWS
Forget Grumpy Cat. New Zealand has the Kaikoura cows: three humble bovines who were thrust into the internet limelight in the wake of November's 7.8 magnitude earthquake. Like an island in a storm, the cows were filmed by a helicopter television crew huddled on an elevated patch of grass as the land about them lay in collapsed disarray from the quake. Farmer Derrick Milton, who rescued the cows, eloquently summed the situation. "You're a clever cow to skip and dance while the land beneath you is disappearing down the hill," he said.
CREATING A BUZZ
New Zealand and the global media were abuzz with news of Buzz Aldrin in December after he became sick on a private trip to the South Pole and was evacuated. The 86-year-old, who was the second man to walk on the moon, was soon-after treated and discharged from a Christchurch hospital. Things got even more cosmic for the star man when it was revealed he was treated by a Dr David Bowie.
'WHO EVER SAID BLONDES ARE DUMB?'
After agreeing to allow a man to tattoo her derriere for $6500 in December, a Kiwi woman then came out with a message for the haters. Bailey Price, 20, had earlier auctioned off a 9cm by 9cm piece of her butt as a blank space on Trade Me to raise cash to pay off her debts. Miami man "Sir" Ivan Wilzig, 60, who website Page Six describes as a "banking heir-turned-electronic dance music maestro" won the auction and intends to use the tattoo to promote his latest single. He also agreed to fly Price to Miami to get the ink done. With debts paid, a car upgrade on the way and trip to the US planned, Price had this to say: "Who ever said blondes are dumb?"