Dimitrenko accuses Parker of jumping gun

NZ Newswire
28/09/2016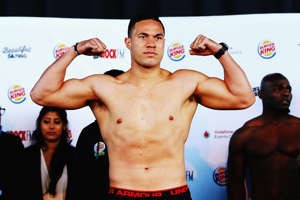 © Getty Images Joseph Parker weighs in during the weigh in at Vodafone Events Centre, Manukau on May 20, 2016 in Auckland, New Zealand Alexander Dimitrenko's next fight is against Kiwi boxer Joseph Parker on Saturday in Manukau.
But Parker's next fight, in his head, is a November bout against world champion Anthony Joshua in London.
That's the allegation levelled by the Ukrainian against local hero Parker, who must win on Saturday to progress to a title fight in November or March.
Dimitrenko, 34, has employed mind games aplenty in the lead-up to Saturday's bout, previously saying he could see Parker's inexperience in his eyes.
He also told reporters the 24-year-old Aucklander undeservedly beat opponent Carlos Takam in May, a jibe Parker labelled "disrespectful".
The Hamburg-based heavyweight, who stands at 201cm, has the opportunity to pinch Parker's IBF No.1 mandatory challenger position with a victory.
He acknowledged Parker now looked ready to rumble, but felt his impressive 38-2 record would see him through.
"It's not the first time for me," Dimitrenko said.
"I'm relaxed and looking forward to fighting, winning and going home."
Parker's camp, for their part, firmly denied they were already looking ahead to a tussle with Joshua in London.
The 193cm Parker had tapered off over the past fortnight and was feeling stronger than ever after an extended weight training regimen.
He had instructed his camp to withhold any information about Joshua until after fight night on October 1.
"There's one person in front of me and it's Dimitrenko," Parker said.
"If I can't get past this person, what's the point of thinking about any of the other guys?"
Veteran trainer Kevin Barry admitted Parker's camp were working behind the scenes to nail down bouts with either Joshua or compatriot David Price.
But he believed his fighter's attention was squarely focussed on the present.
The Vegas-based Barry said he'd never seen Parker so intense.
"We're in a position at the moment where we're very close to something big and Joseph's very well aware of it," Barry said.
"This fight means a lot to us, and he's the biggest guy and most experienced fighter we've fought."
Barry said Parker was looking at his fleet-fisted best in the gym, but now had to recreate that form under pressure in the ring.
A good start would be key.
"I don't want Dimitrenko to get any rhythm and I don't want him to feel any comfort at all," Barry said.
"I want to put him under pressure from the outset and if we do that, I think Joseph will break him down."