Donald keen to play on for Chiefs

NZ Newswire
13/10/2016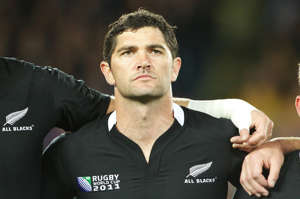 Former All Black Stephen Donald says he has no plans to hang up the boots just yet despite another injury-plagued season.
Donald has been out of the game for almost three months after injuring his right shoulder in the Chiefs' quarter-final victory over the Stormers in July.
The 32-year-old will come off the bench for Waikato when they take on Wellington in the Kiwi capital on Saturday, in what could be his sole Mooloos appearance of 2016.
Last season he managed only two appearances for the provincial outfit after battling a hamstring injury sustained after his return from Japan.
However, Donald believes he's more than capable of another campaign with the Chiefs after starring for them in their June victory over Wales.
"The lat was a freak injury and we couldn't find any other rugby player it's happened to - apparently it's a water skiers' injury," Donald said.
"The body is as good as it's ever been, so I'm certainly not thinking it's all over yet."
The specialist first-five also hasn't ruled out another stint overseas if he fails to secure a Super Rugby contract.
He was yet to discuss his future with Chiefs management.
"The only game of rugby I know I've got guaranteed is on Saturday night," Donald said.
"What will be, will be, but when you get to this point in your career it's just a matter of enjoying the moment."
Donald also said he couldn't wait to team up with Waikato teammate Isaac Boss for the first time in more than 11 years if they take the field together.