Donald Trump 'insists on meeting with Putin despite team's advice'

The Independent
26/06/2017
Donald Trump reportedly wants to press ahead with a bilateral meeting with Russian President Vladimir Putin, one of the most controversial world leaders, despite caution from several administration officials. 

Both Mr Trump and Mr Putin are expected to attend a multinational summit next month in Germany.
While the President is eager for a meeting with all the diplomatic trimmings, calling for media access and all the typical protocol associated with such engagements, the Associated Press reports that many officials from the State Department and the National Security Council believe it would be better for the two to maintain their distance in the midst of probes into Russia's meddling in the 2016 election.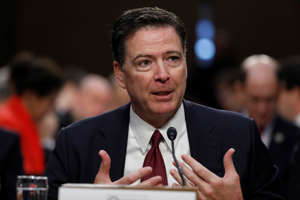 Donald Trump's most outrageous quotes In pictures: Donald Trump's most outrageous quotes

Jeh Johnson, Homeland Security chief under former President Barack Obama, revealed last week that Mr Putin himself directed the the cyberattacks aimed at disrupting and discrediting the US's presidential race. Congressional and federal investigators are also probing whether Trump campaign officials colluded with Russian operatives. 

According to the AP, some advisers have suggested that instead of having a full bilateral meeting, Mr Trump and Mr Putin should do either a short, informal "pull-aside" on the sidelines of the summit, or that the US and Russian delegations hold "strategic stability talks", which usually don't involve presidents.
Asked about the report that Mr Trump wants a full bilateral meeting, Mr Putin's spokesman Dmitry Peskov told reporters in Moscow on Monday that "the protocol side of it is secondary."
The two leaders will be attending the same event in the same place at the same time, Peskov said, so "in any case there will be a chance to meet." Peskov added, however, that no progress in hammering out the details of the meeting has been made yet.
Mr Trump has only recently appeared to acknowledge that Russia interfered in the 2016 election, which reportedly was done to defeat or at least damage his opponent Hillary Clinton and elect him as president.
In a series of tweets, the President criticised the Obama administration's response to Russia's meddling, which he had previously labelled as fiction created by Democrats.
In the coming weeks, Mr Trump is likely to have to make a decision about whether to veto a bipartisan bill that imposes new sanctions against Moscow. The legislation would also make it impossible for the President to act alone to lift economic penalties that were levied by Mr Obama.