Donald Trump: Tycoon praises Katie Hopkins and says UK in denial over 'Muslim problem'

International Business Times
10/12/2015
Republican presidential hopeful Donald Trump has said the UK is in denial over its "massive Muslim problem" – praising controversial Daily Mail columnist Katie Hopkins for her writing on the subject – doubling down on his claim that parts of London are no-go areas for British police officers.
Not content with stirring controversy in the US, where he has called for a complete ban on the arrival of Muslims, Trump has provoked anger from British leaders and the public by addressing UK domestic issues in his own divisive style.
In spite of the growing popularity of an online petition calling for Trump to be banned from the UK, the reality TV magnate he has continued with his onslaught. "The United Kingdom is trying hard to disguise their massive Muslim problem. Everybody is wise to what is happening, very sad! Be honest," Trump wrote on Twitter.
Thank you to respected columnist Katie Hopkins of Daily https://t.co/LgtY0qdv9U for her powerful writing on the U.K.'s Muslim problems.

— Donald J. Trump (@realDonaldTrump) December 10, 2015
If Donald Trump wins the race to the White House I'm moving to America. Daring to bare what some people really think. #DonaldTrump

— Katie Hopkins (@KTHopkins) December 4, 2015
He then praised Katie Hopkins – an avid fan of the US presidential hopeful – for her contribution to the debate calling her . Hopkins notoriously referred to migrants trying to reach Europe as "feral animals" and "cockroaches". She has also said she will move to the US if Trump is elected president.
420,000 members of the British public have signed the online petition calling for Trump to be banned from entering the UK over his comments. The Republican frontrunner has united British politicians from across the political spectrum in contempt.
Nicola Sturgeon has dropped Trump from his role as global Scottish trade ambassador and Boris Johnson has said he would avoid certain parts of New York to avoid the American property mogul.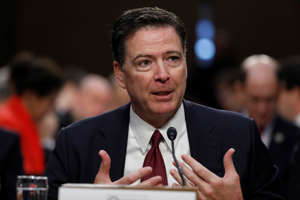 Donald Trump's most outrageous quotes