Don't stick your vote on the fridge: LGNZ

NZ Newswire
15/09/2016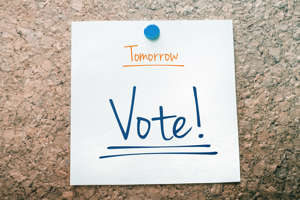 It is hoped lots of gentle reminders will get more people casting their ballots in the upcoming council elections, which are generally marked by poor numbers.
Local Government New Zealand wants the turnout this year to top 50 per cent.
However, turnout for local elections has been sliding over the last 27 years - from around 57 per cent in 1989 to 41 per cent in 2013.
That's well shy of the 77 per cent who voted in the 2014 general election and it's also a poor figure for deciding on who will shape the places people live - pavements, roads, water, parks, libraries, swimming pools, culture, sports and economic development.
Getting turnout above 50 per cent will mean reversing a trend, says LGNZ chief executive Malcolm Alexander.
"But we believe New Zealanders simply need some gentle reminders about the importance of participating in the democratic process at both local and national levels."
Research showed that a large proportion of people who do not vote intend to but were simply too busy or forgot, Mr Alexander said.
Voting papers are being sent out from Friday and LGNZ says people should vote as soon as possible after they arrive.
"Don't put them to one side or stick them to the fridge where they will get covered up by other stuff. Sit down and fill them in as soon as you can, then post them back," Mr Alexander said.
Polling day is October 8 and all votes must be posted or hand delivered to reach their local council's electoral officer by noon that day.