Doorman Acquires Luna To Create Consolidated Package Delivery Service

TechCrunch
6/05/2014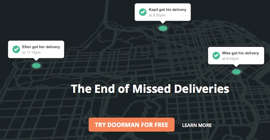 , a startup that help customers receive packages when they're actually at home, is acquiring competing service .
Both companies are trying to solve a similar problem — the fact that packages are often delivered while you're out at work, leading to delays, , or "go ahead and leave it outside my door"-type instructions. And they came up with similar solutions, namely having packages delivered to the company — then they're delivered to customers when they're actually at home, at a time that they've scheduled. (Both companies are serving San Francisco initially.)
Asked whether the deal was really about acquiring Luna's technology, team, or customer base, Luna co-founder and CEO Zack Shapiro said, "It was a little bit of everything." Luna will continue accepting deliveries until May 13, and then its customers will be moved over to Doorman. Meanwhile, Shapiro and his co-founder Robert Balousek (the entire Luna team) are joining Doorman as advisors.
Shapiro said that he'd considered joining Doorman full-time, but ultimately he and Balousek decided that they wanted to pursue another startup: "Rob and I are going to kick around some ideas, but nothing [to announce] yet."
back in January, and co-founder Zander Atell told me today that the service has since dropped its to $3.99 per package, with unlimited monthly plans and package returns, too.
You can , in which Shapiro and Balousek wrote, "Zander and Kapil share a very similar mission; they're as frustrated by missed deliveries as we are, and they've been building a very impressive company as we've been building Luna."