Dotcom ordered to back pay lost wages

NZ Newswire
28/03/2017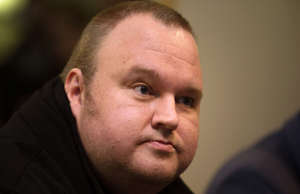 Internet millionaire Kim Dotcom has been ordered to pay more than $33,00 to two former staff he was found to have unlawfully dismissed, including one over a falling out with his then wife.
Pan Orduna and John Tactaquin took Mr Dotcom to the Employment Relations Authority claiming they were owed wages after being let go.
Mr Orduna worked as a butler six days a week for Mr Dotcom while Mr Tactaquin was a personal assistant to Mr Dotcom's now estranged wife Mona.
ERA member James Crichton upheld their claims finding both were unjustifiably dismissed from their employment, but a third case brought by Ruth Revelle was dismissed.
The trio claimed they had been made to work increased hours for reduced salaries after Mr Dotcom was incarcerated for a month following the Megaupload raids that led to charges being laid against him in the United States.
Mr Crichton said money became tight and there were difficulties paying the salaries of household staff during that time.
Some staff left but Mr Orduna and Mr Tactaquin were among those who stayed and, they say, worked longer hours seven days a week in the following period.
Mr Dotcom denied they worked beyond 10 hours a day and told the ERA that he never promised to pay for additional work hours because the staff were on salary.
"We told the staff that we expected that salary rates to return to the normal rate once the financial position improved," he said.
It was after that time that Mr Orduna and Mr Tactaquin were dismissed.
"The circumstances in which Mr Tactaquin was dismissed are still shrouded in confusion," Mr Crichton said.
"...so far as I can discern it would seem that Mr Tactaquin was dismissed for a falling out with Ms Dotcom."
In a judgement released on Monday, Mr Crichton ordered Mr Dotcom to pay $3000 in compensation and a further $17,526 in lost wages to Mr Tactaquin following the unlawful dismissal.
Mr Orduna was granted $4000 in compensation and $8850 in lost wages after he was dismissed for allegations he breached the Dotcom family's confidentiality.
That allegation was made after Mr Orduna, unsatisfied with his employment, spoke to an associate of Mr Dotcom about another job.
Mr Orduna has denied any breach of confidentiality.
Both also sought further compensation for unpaid overtime, but Mr Crichton dismissed those claims without evidence they had worked the extra hours.
He also rejected a claim that Mr Dotcom owed them bonuses, promised to them if they worked two years after the raids.
Mr Crichton found Mr Dotcom's offer of a bonus was discretionary.