Dotcom wins bid to livestream appeal

NZ Newswire
29/08/2016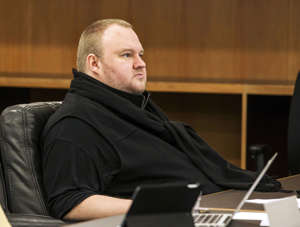 © REUTERS/Nigel Marple Kim Dotcom Internet entrepreneur Kim Dotcom has won a bid to livestream his battle against extradition to the United States on YouTube.
The 42-year-old Megaupload founder has this week returned to court to appeal a decision allowing him to be extradited from New Zealand over criminal copyright charges.
On Tuesday, the presiding judge gave permission for the entire six weeks of the appeal hearing to be broadcast on YouTube by a cameraman hired by Dotcom.
Between the direct effect on millions of Megaupload users as well as the precedent the case would set, the public interest merited complete coverage standard media channels could not provide, Dotcom's lawyer, Ron Mansfield, had argued at the High Court in Auckland.
"This is a case of the internet age," he said.
Lawyers for the United States oppose the livestream, saying Dotcom was not sufficiently accountable for the coverage - as a media organisation would be - and that the footage could prejudice a criminal case in the US if the extradition went ahead.
But Justice Murray Gilbert allowed the stream to go ahead, on the grounds the comments and live-chat features for the video were disabled, the video was taken down after the trial and the broadcast was delayed for 20 minutes to avoid publishing of sensitive material.
"This is breaking new ground. New Zealand at the forefront of transparent justice! Leadership!" Dotcom tweeted moments later.
The livestream will start on Wednesday.
In December, Judge Nevin Dawson ruled Dotcom and his three associates - Mathias Ortmann, Finn Batato and Bram van der Kolk - had criminal charges to face in the US over their part in running file-sharing website Megaupload.
The four men face charges of conspiracy to commit racketeering, conspiracy to commit money laundering, wire fraud and two kinds of criminal copyright infringement based on an FBI investigation going back to 2010.
During the 10-week extradition hearing last year, lawyers for the US argued Dotcom and his associates had earned $US175 million ($NZ239m) by running a website funded largely by revenue from publishing copyright-infringing files.
But their lawyers say the judge failed to give them a fair hearing and didn't properly consider their arguments - including that they could not be held responsible for the illegal use of technology with a largely legitimate purpose.
If extradited and found guilty in the US, the men could be up for decades in jail.