Draw hands Todd early start at Badminton

NZ Newswire
2/05/2017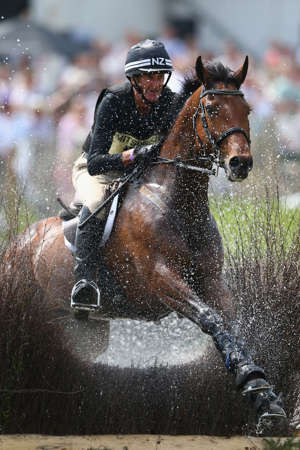 Sir Mark Todd will be an early starter when he attempts to add to his four victories at the prestigious Badminton three-day equestrian event in England.
The two-time Olympic champion has two horses entered this week - Leonidas II and NZB Campino.
As such, he knew he would be among the first riders into the arena when the dressage phase begins on Thursday night (NZ time).
The draw has given him and Leonidas a particularly early start - second among the 85 acceptances.
The combination was the best of the New Zealand contingent at the four-star event in Gloucestershire last year, finishing fourth.
Todd is happy with the form of his horses heading into the competition.
"I'm looking forward to hopefully both of them putting up a good performance," he said.
Compatriot Andrew Nicholson also has two entries - Nereo, the horse he has ridden to victory at Pau and to third place at Badminton, and Badminton debutant Qwanza.
Nicholson has the record for the most Badminton completions with 33, but has yet to stand atop the podium.
Another seasoned campaigner, Blyth Tait, like Todd a former Olympic and world champion, is back with Bear Necessity V.
The horse is the one Tait rode last year when he made his first Badminton appearance in 16 years.
Other New Zealanders in the field: Caroline Powell (Onwards and Upwards), Tim Price (Xavier Faer), Dan Jocelyn (Dassett Cool Touch), Jesse Campbell (Kaapachino).