Driver accused of dragging train passenger along platform with hand stuck in door

Evening Standard
11/01/2017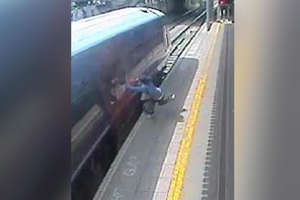 © Evening Standard A train driver accused of dragging a woman along the platform when her hand was stuck in one of the carriage doors has appeared in court.
Stephen Murdoch, 44, allegedly trapped the woman's hand as she dashed to catch the train at Hayes and Harlington station, forcing her to run alongside as she battled to free herself.
She eventually managed to pull herself free, Highbury magistrates heard, but fell on to the platform and suffered bruising and "injuries consistent with falling onto concrete", it is said.
Murdoch, of Reading, Berkshire, appeared in the dock yesterday after being charged over the incident, at around 1.10pm last July 25.
He is accused of wilful omission or neglect, namely closing the train doors with the victim's hand still stuck between them, endangering the safety of a person conveyed or being in or upon the railway.
Wearing a black jumper and green shirt, Murdoch spoke only to confirm his name, age and date of birth and did not enter a plea.
Sara Ashkboos, prosecuting, said: "The incident occurred when a passenger was running to get on the train and got her hand stuck in the door as she was trying to get in.
"The Crown's case is that the train driver moved the train while the victim was stuck in this door. As a result she was pulled along, running with the train, whilst her hand was trapped.
"She subsequently managed to free her hand and fell over quite abruptly."
District Judge Nicholas Rimmer freed Murdoch on bail until a hearing at Blackfriars Crown Court on a date next month