Drizzle dampens Kiwi Test bowling assault

NZ Newswire
25/03/2017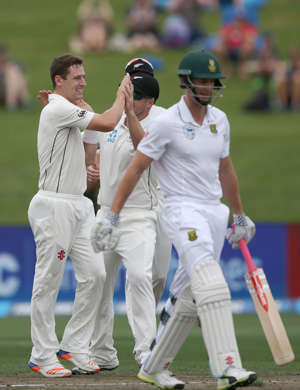 © Dave Rowland/Getty Images Matt Henry of New Zealand, (L) celebrates the wicket of Theunis de Bruyn of South Africa. Persistent mid-afternoon drizzle has caused day one of New Zealand's Test series comeback mission against South Africa to fizzle out.
Sent in to bowl at the start of the day in Hamilton, the Black Caps held the Proteas to 123-4 before the heavens opened shortly before tea.
The umpires delayed returns to play at 4pm, 4:30pm and 5pm on Saturday, before calling an end to the day's proceedings at about 5:45pm.
The Seddon Park covers were gradually unfastened by local ground staff as spitting rain began to subside, but not enough to send the Proteas back to the crease.
Even heavier rain is forecast for Sunday and Monday, putting days two and three at considerable risk as the Kiwis look to rein in a 1-0 series deficit.
"All in all, we did well to get them four down - it would've been great to get a nice little hour tonight but it wasn't to be," Kiwi seamer Matt Henry said.
"I don't think you can look too far ahead (as) it's so early in the piece and weather can change, so one job at a time."
If and when the players return to the pitch, the South Africans will consider themselves lucky to still have captain and talisman Faf du Plessis wearing his pads.
The Black Caps' shonky use of DRS came back to bite them before rain halted play, with du Plessis spared a review that would have otherwise sent him packing for just 16.
Having already wasted both their reviews, including one obviously innocuous Neil Wagner delivery, the Black Caps roared in appeal when du Plessis appeared to give the slightest of edges to another Wagner speed ball.
But umpire Bruce Oxenford decided the 33-year-old made no contact, muting BJ Watling's animated pleas from behind the stumps.
The television "snicko" later found du Plessis, a 39-Test veteran, had nicked Wagner's delivery.
"You've got to go with a bit of gut, it all happens pretty quickly," Henry said.
"It can be frustrating but we'll get another chance."
Du Plessis went on to hit 33 not out by the time rain struck, while first-drop Hashim Amla notched 50 off 88 balls before Henry cleaned him up with a yorker.
In the morning session, the Black Caps had limited South Africa to 71-3 thanks to the early capture of openers Theunis de Bruyn and Dean Elgar for a combined five runs.
Amla and JP Duminy rallied with a 59-run stand after the two losses, before Duminy ballooned Henry to Jeetan Patel at fine leg for 20 just before lunch.
The 25-year-old Henry, called in as cover for the crocked Tim Southee and Trent Boult, led the pace attack with an impressive 25-2 from 10 overs.
"It's great to be back out there, get that ball back in hand and have a run around," Henry said of his first Test since November.
"It's a great opportunity with two guys down to really make sure we pass on the baton and all do our jobs."