Dublin defensive grit inspires NZ in Paris

NZ Newswire
28/11/2016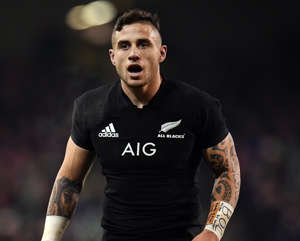 All Blacks halfback TJ Perenara says his side were able to use their backs-against-the wall effort last week in Dublin to stay the course against France.
The world champions came out 24-19 victors in Paris over an impressive Les Bleus side, who enjoyed 61 per cent of first-half possession and deployed a trademark running rugby style.
The flow of the game largely mirrored that seen against Ireland in Dublin, where the All Blacks held strong and sprung forward to score thrice in a 21-9 win.
And like in the Irish capital, the All Blacks were able to unleash a ruthlessly efficient style that saw the side score in each of their genuine opportunities.
"When you've been in moments that are similar to that, I guess you can fall on the fact you've been there, you can take a lot from certain situations," Perenara said.
"They brought it for maybe a little longer than we would've liked, we had to make a few more tackles, but that's footy and sometimes others do what you don't expect."
Perenara, 24, has sat behind Aaron Smith in the No.9 pecking order for much of his Test career, and said this week he had no qualms hearing Smith was the best halfback in the world.
But since news of an indiscretion at Christchurch Airport was made public, the Highlanders gun has struggled for confidence and form in the black jumper.
Perenara was selected ahead of Smith in the French capital and rewarded coaches with a tidy display, making more than 50 passes, eight tackles and four kicks.
He said irrespective of who started, the demands of modern rugby were such that each player in the matchday 23 had a significant role.
"Gone are the days where the 15 grind the team down and win the game and no-one comes on, it's genuinely a 23-man game," Perenara said.
"It's often the guys that come off the bench that make the difference."