Earthquake trigged new fault: NIWA

NZ Newswire
22/11/2016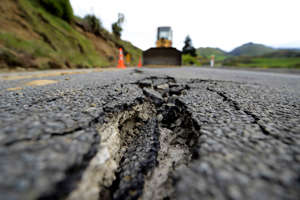 The National Institute of Water and Atmospheric Research (NIWA) had sent a ship of scientists to undertake research off the North Island's East Coast when last Monday's 7.8-magnitude earthquake hit.
Their expedition aboard NIWA's flagship research vessel Tangaroa then diverted to survey the seabed in areas affected.
NIWA's Dr Phil Barnes says the November 14 earthquake presented "a very rare opportunity to calibrate paleoseismic data".
He and a team of 13 others collected 61 sediment cores up to 5.5 metres long on continental margin between Kaikoura coast and Poverty Bay while on board the Tangaroa.
The latest mapping and profiling by Tangaroa confirms a submarine fault, now called Needles Fault, ruptured during the quake forming newly discovered scarps (offsets where one side of a fault has moved vertically with another fault) on the seafloor.
The team will also try and locate the trace of the fault, but preliminary results say the Needles Fault is an offshore extention of the Kekerengu Fault, which appears to have caused slips in the Kaikoura region and displacements on land of up to 5-10m.
NIWA says the Needles Fault could be up to 34km long.
The marine data collected will help in the understanding of the entire fault network which was activated during the November 14 earthquake.
Those onboard the Tangaroa were researching the Hikurangi subduction interface which divides naturally into three segments: the lower North Island, the Hawke Bay region, and the Raukumara Peninsula and covers and area of around 100km.