Eliza McCartney wins pole vault bronze

Radio New Zealand
20/08/2016
© REUTERS/Kai Pfaffenbach Eliza McCartney reacts after clearing a jump in the women's pole vault final.
Pole vaulter Eliza McCartney has become New Zealand's youngest female medallist at an Olympics after winning bronze in Rio.
The 19-year-old equalled her personal best of 4.8metres to finish third, breaking swimmer Jean Stewart's 64-year record as New Zealand's youngest female medallist from the 1952 Helsinki games when she was -21-years-old.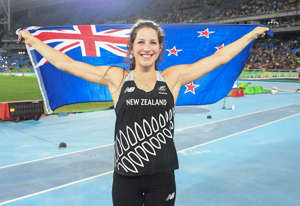 McCartney started strongly clearing her first three heights on the first attempt. It was after she'd reached her national record that she faltered missing her 3 attempts at 4 point 85 metres.
Two cleared but the rest were also eliminated and McCartney was awarded the bronze as she'd had the least number of jumps.
Greek pole vaulter Ekaterini Stefanidi won gold while American Sandi Morris claimed the silver.
Going to love following Eliza McCartney's career. What a performance in your first Olympics & NZ's best in field events.

— #NZIII (@MargotButcher) August 20, 2016
New Zealand's Rio medal winners