England is Wayne Bennett's last Test gig

NZ Newswire
26/05/2017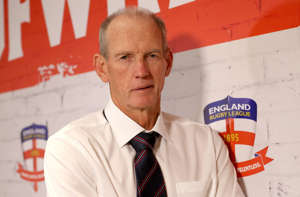 Rugby league supercoach Wayne Bennett says his current Test posting with England will be the last representative job of his career.
The Brisbane boss took over the English national side in 2016, tasked with guiding them through last year's Four Nations and the Rugby League World Cup later this year.
While Bennett was open to the idea of staying on with England post-World Cup, he told reporters on Friday he wouldn't take the reins of another national team.
The seven-time NRL Premiership winner has enjoyed a glittering career at representative level, securing a Tri-Nations with Australia in 2004 and masterminding New Zealand's shock 2008 World Cup victory as assistant to Stephen Kearney.
He has also picked up four State of Origin gongs with Queensland.
But after spending time with each of the 'big three' Test nations - and rejecting the chance to join France in 2013 - Bennett said his time was almost up.
"I think I've done the rounds," Bennett said.
Bennett's England, minus Wigan star Sean O'Loughlin, trumped a tricky Samoa 30-10 in a landmark mid-year Test three weeks ago.
Having rarely taken part in mid-year Test football, England will find themselves in the international arena more often from 2018 when the new calendar comes into effect.
Bennett revealed the English - who will eschew pre-World Cup hit-outs for a training camp in Perth in October - would henceforth play New Zealand in an annual mid-year Test, to take place on a Sunday during State of Origin season.
This would boost their competitiveness for future events.
"They've just got to play more games as an international team," Bennett said.
"Australia get a huge advantage through Origin; New Zealand get a much better advantage because they've been playing mid-year Tests against Australia on a regular basis.
"England need to start doing more of that, and with the international calendar that's come out recently, that will happen.
"I was really impressed by being with them, by how hard they train and how good their skills are and how committed they are."