English: We're not giving up on housing

NZ Newswire
18/12/2016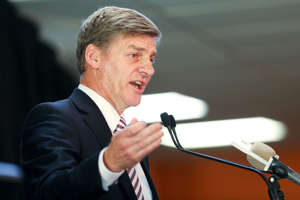 Labour is accusing the government of giving up responsibility for housing but the prime minister says a name change in a cabinet portfolio means nothing of the sort.
In Sunday's reshuffle, Nick Smith's portfolio changed from building and housing to building and construction.
Amy Adams is minister for social housing and minister in charge of Housing New Zealand.
In the previous cabinet, Paula Bennett held social housing and Mr English was responsible for HNZ.
Labour's deputy leader, Annette King, says the government has always denied there's a housing crisis and now it doesn't have a minister for housing.
"National has managed to abolish the problem because they're so embarrassed about their lack of action," she said.
"He's stripped away the title of housing minister."
Mr English says he doesn't know what she's talking about.
"Housing is a big, complex issue," he said on RNZ on Monday.
"There's a regulatory function and Nick Smith is easily the most knowledgeable on that, and the social housing function is under Amy Adams - it's a minor change in the wording."
Mr English says responsibility for housing has been consolidated from three ministers to two, which will tighten the focus.
"The government doesn't make direct decisions about housing," he said.
"Those are made by councils and buyers and sellers in the market... the government sets the rules and has to focus on doing it's job well."