English's cabinet reshuffle options widen

NZ Newswire
15/12/2016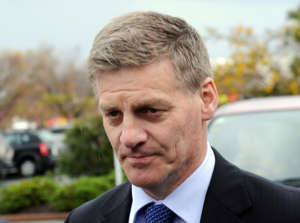 © SNPA / Ross Setford Murray McCully is the third minister to announce he won't stand for re-election, giving Prime Minister Bill English wider options for the cabinet reshuffle. Foreign Minister Murray McCully's decision not to stand for re-election next year has widened Prime Minister Bill English's cabinet reshuffle options.
Mr McCully is the third and most senior minister to announce he's leaving politics since Mr English was sworn in on Tuesday.
Sam Lotu-Iiga was the first, followed by Craig Foss.
Mr English will announce the reshuffle on Sunday.
Mr McCully is in New York attending UN Security Council meetings and announced his decision in a statement on Thursday.
It's now up to Mr English to decide whether Mr McCully stays in the role until the next election, or it is given to someone else.
"Bill English has my complete support and I want to ensure that New Zealand's international relationship have a smooth transition from the Key government to the English government," Mr McCully said.
"How I might best contribute to that process is a matter for the prime minister."
Mr English intends promoting at least three backbench MPs but foreign affairs isn't a job for rookies.
If he does replace Mr McCully, the job will go to an experienced minister.
There has been speculation that Health Minister Jonathan Coleman could take over foreign affairs, with health moving to another current cabinet minister such as Michael Woodhouse.
Mr Lotu-Iiga and Mr Foss offer opportunities for backbench promotions.
They're both junior ministers - Mr Lotu-Iiga is ranked 18th out of 19 cabinet ministers and Mr Foss is a minister outside cabinet.
Their departures free up portfolios including local government, ethnic communities, small businesses, statistics and veterans' affairs.
Another portfolio that will be re-assigned is tourism.
Former prime minister John Key held it but Mr English isn't taking it over.