Evidence of terror threat revealed

NZ Newswire
3/11/2016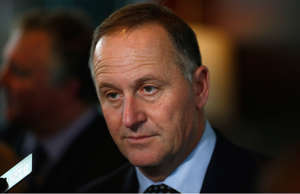 New Zealand's highest-level security system was activated in response to the threat of a terrorist incident, it has been revealed.
The evidence is in the government's National Security System Handbook, recently released by the Department of Prime Minister and Cabinet.
It explains how the system for dealing with serious threats operates and lists examples of previous NSS activations.
One of them was: "threat of a domestic terrorist incident".
The handbook gives no details of the incident, nor does it say when it happened.
Other examples were the threat of 1080 contamination of infant formula, the Ebola virus and the grounding of the Rena on Astrolabe Reef.
The NSS is led by a committee chaired by the prime minister and can call in senior officials from the security agencies, the police and the military, depending on the nature of the threat.
Prime Minister John Key's office would not provide further information about the threat of a domestic terrorist incident.
"As the prime minister has said, New Zealand is not immune from the threat of terrorism, although the threat to New Zealand remains low," a spokesman for Mr Key told NZ Newswire.
"Our intelligence agencies play an important role in identifying, monitoring and reacting to any domestic threats in order to keep New Zealanders safe, both at home and abroad."
Intelligence analyst Paul Buchanan told Fairfax the threat listed in the handbook most likely involved a "self-radicalised" New Zealander, but there were other possibilities.
"There are other people here - white supremacists, Maori sovereignty types, even animal rights activists - who conceivably could engage in acts of terrorism, so I wouldn't jump to conclusions," he said.
It was also revealed on Thursday that the Security Intelligence Service has for the first time used its powers to authorise urgent surveillance without a warrant.
Inspector-General of Intelligence and Security Cheryl Gwynn says in her report for the year ended June the authorisation was the first since parliament passed laws in 2014 allowing the SIS director to order urgent surveillance without going through the process for obtaining a warrant.
Surveillance without a warrant is allowed for 24 hours, and Ms Gwynn says in this case the warrant was issued within that time and the surveillance was not stopped.
The SIS was given the urgent surveillance authority for dealing with threats such as terrorism, when it might need to immediately start spying on someone without going through the warrant application process.