Expat Kiwi Cameron Norrie through to ASB Classic final

Radio New Zealand
11/01/2019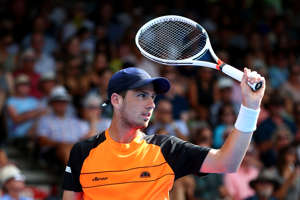 © Hannah Peters/Getty Images AUCKLAND, NEW ZEALAND - JANUARY 11: Cameron Norrie of Great Britain looks on during his semi final match against Jan-Lennard Struff of Germany during the 2019 ASB Classic at the ASB Tennis Centre on January 11, 2019 in Auckland, New Zealand. (Photo by Hannah Peters/Getty Images) Auckland-raised Cameron Norrie will meet American Tennys Sandgren in the ASB Classic final after defeating German Jan-Lennard Struff 7-5 4-6 6-3 in the semi.
Fighting to qualify for his first ever career ATP Tour final, Norrie may have found his feet early in the match but Struff proved a tough competitor.
Norrie's signature backhand and sweeping shots kept the scoreboard ticking over, but it wasn't long before bullet serves of at least 214km/h had Struff gaining momentum.
Download the Microsoft News app for your Android or iPhone device and stay up-to date on the news you care about most.
Both players notched two break points apiece, but Norrie edged in front 7-5 to take the first set.
In the place he used to call home, the 23-year-old had earlier said he could feel the support of the Auckland crowd building but it wasn't enough in the second stanza.
Running on fumes after qualifying for both the singles and doubles semi-finals, Struff knew he had to turn it up or risk forfeiting the chance of a debut finals appearance, going on to take the set 6-4 and send the match to a deciding third set.
Battling through sweltering 43C temperatures on court, it was Norrie who made the early break with a 3-0 lead, pushing on to win 6-3.
Wildcard Norrie will meet Tennys Sandgren in tomorrow's final after the American defeated German Philipp Kohlschreiber in straight sets 6-4 6-2 in round one of play.
New Zealand's number one tennis player Michael Venus and South African partner Raven's ASB Classic finals opponents have been determined.
They will face Kiwi-born Japan's Ben McLaughlin and German Jay-Lennard Struff after their 3 set win over Austria's Oliver Marach and Croatia's Mate Pavic 6-4 6-7 1-0."
- RNZ