Expert says dying paua will bounce back

NZ Newswire
16/11/2016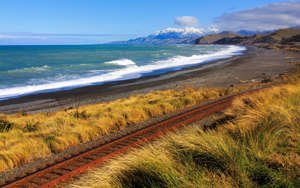 Kaikoura's paua and crayfish populations can recover despite thousands dying when they were left stranded above the waterline by Monday's massive earthquake, a marine expert says.
The 7.8 magnitude quake raised patches of seabed, stretching from the Kaikoura coast through to Cape Campbell in Marlborough, by up to two metres.
Victoria University of Wellington Coastal Ecology Lab director, professor Jeff Shima, said paua and other marine animals were naturally resilient, given they tolerated constant pounding in the coastal Kaikoura surf.
But when it came to changes in water depth and tidal levels, they were "incredibly sensitive".
"We know that small changes in tidal fluctuations can have big effects on the marine life in these communities," he said.
"Rapid coastal uplift (or subsidence) will have ecological consequences that are even more severe."
He said scientists in Chile had documented a catastrophic mortality rate among many marine animals and plants after an earthquake there in 1985 caused a coastal uplift of 40-60cm.
Despite this, professor Shima said he was confident Kaikoura marine life would recover, but that it could take years and the habitat could be permanently altered.
He said scientists were also well-placed to keep an eye on the changes given the Kaikoura system is among New Zealand's best studied coastlines.