Facebook For iOS Tries Popping Up Cards Of Related Content To Browse After You Post

TechCrunch
15/05/2014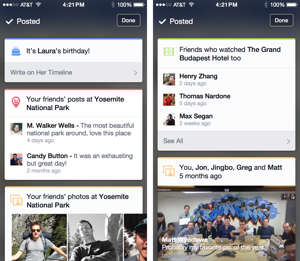 Facebook is taking a swing at suggesting contextual content to keep you surfing after you share. A new test on surfaces related content cards including photos of restaurants you say you're at, friends who've checked in where you did, photos of friends you check in with or mention in a status, and friends who listened to a song you just posted. The cards could make News Feed feel alive.
By reacting to what's top of mind for users, Facebook could unlock new utility, entertainment, and monetization potential.
The cards test is rolling out to a small subset of iOS users How will thecards look? If you posted a status message or photo and tagged your friend Julia at Yosemite National Park, you might see the card on the left above. The card on the right could appear if you posted a status with the "watching Grand Budapest Hotel" action, and tagged your friends Jon, Jingbo, Greg, and Matt. Along with music, and videos, the cards can respond to books you're reading too. 
Facebook's cards go a step further than Twitter's by not just rendering in-line media you've shared, but suggesting what you might want to see next. They won't answer your burning questions like Google Now, but that's because Facebook isn't fundamentally a search experience, it's a content relevance engine. It's goal is to show you things you'll be interested in. In that sense, Facebook's cards might be best compared to the suggestions of nearby places that Foursquare provides.
Facebook's News Feed has largely been slow to react. It applies a lifetime of your preferences about who and what is relevant to choose what feed post to show next. This mostly ignores your current mindset. Sure, maybe someone isn't your best friend, but if you post a photo with someone's, it's quite likely you might want to see more pics of them.
Facebook has been making some forays into real-time, contextual content suggestions in the feed. Like a post by a Page and it will show other Pages "Similar To [the one you just clicked]" that you might want to subscribe to. Like a news article, and Facebook pulls up "Related Links" you might want to read next.
Now Facebook is bringing contextuality to mobile, and applying it to the most central parts of its graph: people and photos. The cards test is rolling out to a small subset of users.
Facebook tells me "These cards can help you discover information about where you are or what to do next, or inspire conversations with your friends around you.  This feature respects all existing privacy settings, and the card will only show you information that you could already see elsewhere on Facebook. We wanted to make it easier for you to interact with your friends about the things you're doing and the places you are visiting."
The strategy has potential for serveral reasons. First, it's likely that users leave Facebook's app after they publish something. This is squandered engagement. Facebook could reduce the after-sharing bounce rate with its new cards.
Rather than getting dumped back into a stale feed, the interface reacts to make Facebook feel fresh. That's critical for the social network since its filtered feed feels inherently slower and less alive than Twitter's real-time river.
The cards could endear businesses to Facebook by giving them an extra chance to connect with people who shown they're interested. If you see photos of friends having a great time at a restaurant after you check in there, the social proof will probably leave you with a more positive perception of the place.
And finally, these cards could present a new advertising opportunity for Facebook. Businesses might pay to have their Page or content surfaced. Facebook could sell slots in the "Similar To" box below.
In 2012, Facebook tested in the typeahead of its search engine, letting Pages and games to pay to appear when people search for their competitors. Eventually it killed off this ad product, but perhaps cards will resurrect this reactive marketing.  The more Facebook can tie its advertising to the current intent of the user, the more it moves from its historical place in cheaper demand generation advertising and the closer it gets to Google's stronghold of purchase intent-based demand fulfillment ads.
Imagine getting recommendations for nearby businesses after you check in at the park. This isn't happening yet, but it seems like a reasonable next step that could be an attack on Foursquare.
While Facebook is currently analyzing the structured content of posts to fuel its card suggestions, eventually it might weigh more contextual signals like your location, the time of day, or sensors on your device like the accelerometer. Facebook can't read our minds, but with contextual cards, it could read our posts and other signals to make sure it always knows what to show.