Facebook Launches AppLinks To Make Linking Between Apps Easier

TechCrunch
1/05/2014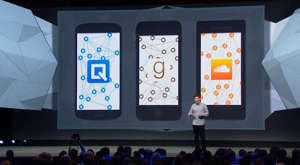 At its F8 developer conference today, Parse CEO and co-founder Ilya Sukhar announced the launch of , a new initiative that will make deep-linking between native apps easier for developers.
"It's a shame that the URL is not a big deal on mobile right now. If I try to open third-party apps, I'm stuck in the web browser where I have to log in again," Sukhar said. "There is no unified way to navigate to links across all the platforms."
So with this new scheme, you just pass the app a web URL and if a compatible mobile app is installed, it will automatically load that app instead of the web version. " "We crawl the web for you, you don't have to do it – but you can, you just don't have to," Sukhar said.
Linking between iPhone apps is currently a pretty difficult proposition that often involved a number of steps. Google does this for its fleet of iOS apps, for example, but there is no standard for invoking third-party apps that all developers can hook into. Now, developers just add a few lines of code to allow users to link between apps.
Historically, the iPhone always made data sharing between apps difficult and as such, linking between apps was hard, too. Over the last few iterations, Apple loosened some of these restrictions and also made linking between apps easier.