Facebook Passes 1B Mobile Monthly Active Users In Q1, As Mobile Ads Reach 59% Of All Ad Sales

TechCrunch
24/04/2014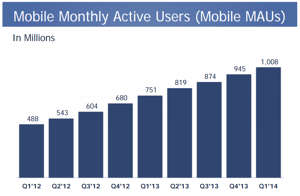 Another mobile milestone for Facebook: the company reported in its that it has now passed the 1 billion mark for monthly active users on phones and tablets. 1.01 billion to be exact. Daily active users on mobile are at 609 million for the quarter.
The news is on one hand a mark of a relentless trend for the company — more and more people are accessing the social network on phones and tablets than on desktop computers, a trend that is only growing as Facebook pushes into more developing markets where handsets are often a user's primary link to the Internet. And on the other, it is a vindication of sorts: Facebook in the last quarter announced that it would on mobile messaging service WhatsApp to help it push deeper into connecting with and growing its mobile user base. Facebook is, in some regards, betting the house on mobile.
At the same time, mobile ads continue to be a powerhouse for the company. They are now at 59% of all ad sales, equivalent to $1.4 billion. A year ago they made up 30% of all ad revenues. Facebook is expected to be announcing a at its F8 developer conference at the end of this month.
Its mobile users are up 34% compared to year ago.
More to come.