Farah Palmer Cup at stake in women's rugby

NZ Newswire
25/05/2016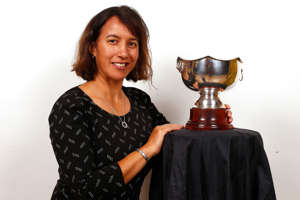 © Phil Walter/Getty Images for NZRU Dr Farah Palmer poses with the Farah Palmer Cup during a portrait session on May 25, 2016 in Auckland, New Zealand The women's national provincial rugby championship has been renamed the Farah Palmer Cup after the iconic former New Zealand skipper.
Palmer led the Black Ferns to victory in the 1998, 2002 and 2006 World Cup, making her the most successful captain in the women's game.
She played 35 times for New Zealand and in 2014 was inducted in the World Rugby Hall of Fame.
This year's championship kicks off on August 6, with nine provinces - Auckland, North Harbour, Counties Manukau, Bay of Plenty, Waikato, Manawatu, Wellington, Canterbury and Otago - vying for the title.