Farmers fear spread of smelly weed

NZ Newswire
15/08/2016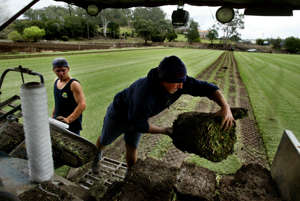 © Getty Images Farmers and researchers say the putrid-smelling horehound weed is beginning to rapidly spread across farm land and urgent action is needed. It may look like mint, but the smell is much less pleasant - and farmers say New Zealand could be on the cusp of a epidemic of horehound.
Lake Tekapo farmer Gavin Loxton has formed the Horehound Biocontrol Group in hopes of figuring out exactly how much the "putrid-smelling" weed has spread, in order to show authorities action is urgently needed.
He and Landcare Research say the plant - which has been controlled in Australia since 1994 - has rapidly gained ground over the last few years and normal control methods are proving futile.
Horehound chokes some crops, gets stuck of wool and - although it's not toxic to livestock - can taint meat if eaten in large quantities.
Mr Loxton said preliminary research had found the weed was at "tipping point".
"It's had exponential growth - it's doubling every two years - according to the surveys I've had back. We've got areas which we never used to see horehound starting to be invaded."
An increase in droughts had helped the weed spread, he said.
"Once pasture has died horehound can invade and establish quicker than more desirable pasture species."
Mr Loxton wants two types of moth to be introduced as biocontrol agents - as in Australia - but says more farmers need to take part in surveys to make the problem clear.
"We are confident that the numbers will add up to make a strong case for investment in biocontrol," he said.
Landcare Research scientist Ronny Groenteman said introducing the moths would be "relatively straight-forward", would take two years and only cost about $400,000.
"At present its a relatively small problem but it looks like its starting to grow exponentially," he said.
"At the moment all farmers can do is use chemical sprays and they only manage, at best, to keep the weed from getting worse. But they're not actually managing to control it."