Ferns encouraged despite patchy win

NZ Newswire
31/08/2016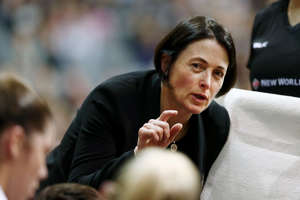 © Anthony Au-Yeung/Getty Images Head Coach Janine Southby of New Zealand talks to the team during the International Test match between New Zealand Silver Ferns and South Africa Proteas. It wasn't the most convincing win, but coach Janine Southby says there were still encouraging signs in the Silver Ferns' scrappy 65-46 victory over South Africa.
Trailing 14-16 after 15 minutes, and ahead by just five at halftime, it took a resurgent 19-8 final quarter for the New Zealanders to wrap up the win at Claudelands Arena in Hamilton on Wednesday.
The Silver Ferns now travel to Melbourne for their final quad series match against world champions Australia - a daunting task, particularly given the absence of key strike weapon Maria Tutaia.
With over 100 caps for New Zealand, the injured goal attack will be sorely missed, but Southby is pleased with the way the New Zealand shooting circle stepped up against South Africa.
Ameliaranne Ekenasio has only seven caps to her name, but impressed with a level-headed performance alongside Bailey Mes.
Ekenasio showed a willingness to post up, and was fearless in launching the long bomb when required.
While she hasn't yet developed Tutaia's uncannily accurate radar in sinking those shots, 27-year-old Ekenasio gave a promising glimpse of her potential in nailing 35 of her 40 shots on goal against South Africa.
Mes's accuracy also continues to climb, and Southby was equally pleased with her 30 from 35 attempts.
"It's about a shared responsibility in there, and both shooters showed the confidence to put their shots up," she said.
"Ameliaranne is a very accurate shooter, and played a really smart game.
"She came into the circle at the right time, posted up and was a really strong option."
Ekenasio, playing her first 60-minute game for the Ferns, said it was important she and Mes were always available and working hard to provide options for their feeders.
"One of my strengths is always going to the post - it's just getting the confidence at this level.
"It's a big step up for me, and now it's about trying to get some consistency from game to game," she said.
Communication will be key against Australia, but Southby says it's even more important that the team plays without fear of failure - even when mistakes do happen.
"It's not going to come off every time, and it's about not giving up the faith when it doesn't come off," she said.
"The big thing is that players still have the confidence to let the ball go."