Fewer teenage mums on a benefit

NZ Newswire
23/02/2017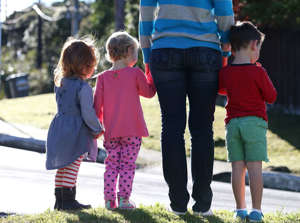 © Fiona Goodall/Getty Images There's been a big drop in the number of teenage mothers on a benefit - down by 57 per cent since 2009. The number of teenage mothers on a benefit has fallen by more than 50 per cent since 2009.
Social Development Minister Anne Tolley says the drop coincides with increased government support to help them lead independent lives.
Her figures show there are 57 per cent fewer now than there were in 2009 - down from 4623 to 1836.
Teen parents have some of the highest lifetime costs of any group on welfare, and can spend more than 17 years on a benefit.
"We want to see young families thrive, rather than relying on benefits," she said on Thursday.
"If we can give young mums opportunities to be independent and successful then that will mean better lives for their children.''
Ms Tolley says the Youth Service has been supporting young sole parents into training and education, and helping them prepare for employment.
Last year's budget put an extra $41 million into the service, extending it to 19-year-old parents.