Fiji's Bainimarama to visit New Zealand

NZ Newswire
10/10/2016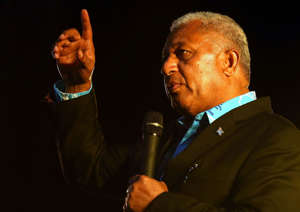 Fiji's Prime Minister Frank Bainimarama is coming to New Zealand within the next few weeks and it's likely to be a state visit, Prime Minister John Key says.
It will be Mr Bainimarama's first official visit since his 2006 coup and is being lined up against the background of restored diplomatic relations.
Mr Key made his visit to Fiji in June this year, which was marked by a controversial speech from the Fijian leader. Mr Key was reluctant to give any details of the visit when he was questioned by reporters on Tuesday. 

"He's highly likely to come, we're working our way through it," he said.
Asked if it would be a state visit, Mr Key replied: "Yes, I would think that would be right."
Mr Key said Mr Bainimarama would "probably" watch the All Blacks play the Wallabies in Auckland on October 22.
"I think he knows he needs a good relationship with New Zealand," Mr Key said.
"I think he's trying to put the relationship on a better footing."
When Mr Key was in Fiji Mr Bainimarama made it clear in his official speech that he didn't want any lectures about human rights in Fiji, which have been of ongoing concern to New Zealand.
Mr Key says he took those comments "with a grain of salt".
"Putting aside that one speech, there were people all over the place waving and cheering," he said.