Final poll puts coalition in front

AAP
1/07/2016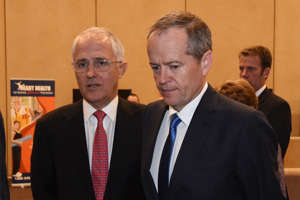 After eight gruelling weeks, Australians will turn out to vote with the latest poll giving Prime Minister Malcolm Turnbull a narrow lead.
One of the longest election campaigns in Australian history has drawn to a close, with polling booths set to open at 8am.
Millions of Australians will line up to cast their vote and buy a sausage sandwich before the 6pm deadline.
The latest Newspoll, published by The Weekend Australian in the early hours of Saturday, puts the coalition ahead 50.5 per cent to Labor's 49.5 per cent in two-party preferred terms.
Coalition campaign spokesman Mathias Cormann says candidates will work until the death to convince voters to return the government.
"We will keep working until 6pm today, communicating with as many Australians as possible to explain why it is so important that we continue to implement our plan for jobs and growth," he told the ABC.
Support for the minor parties and independents was at 23 per cent on a primary vote reading, according to the poll, conducted from Tuesday to Friday.
Mr Turnbull, who will head to his eastern Sydney electorate of Wentworth to cast his vote, improved in his rating as better prime minister, with his support up three points at 48 per cent.
Bill Shorten's rating also rose, lifting one point to 31 per cent.
Meanwhile a Fairfax Ipsos poll points to a dead-heat with the two-party preferred vote at 50-50.
The opposition leader will vote in his north Melbourne seat of Maribyrnong but will first make a final dash around four marginal seats in western Sydney - talking to voters lining up to cast ballots in Labor-held Greenway and Liberal-held Reid, Lindsay and Macquarie.
In New England, Deputy Prime Minister Barnaby Joyce will hit regional polling booths for last-minute votes before returning to Tamworth as he attempts to stave off a challenge from independent Tony Windsor.
More than two and a half million people have already cast their votes at early voting centres this year, the Australian Electoral Commission says.
Of the 150 seats in the lower house, either side needs to win 76 to form a majority government.
Labor needs a net gain of 21 seats to win.