Fire Service joins police in online craze

NZ Newswire
5/05/2016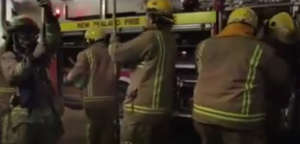 © Facebook / The New Zealand Fire Service Fire Service joins police in online craze Not to be shown up by the boys in blue, the New Zealand Fire Service has decided to join a global dance craze.
The service has posted its own Running Man Challenge video - parodying a police version from earlier in the week that's made a splash around the world - in which uniformed firemen break out their best dance moves.
"Hey NZ Police Recruitment, you didn't think we'd let the cops have all the fun did you?," the message on the Fire Service's Facebook page reads.
"We run to the truck every day to help our communities, so here's our [Running Man Challenge]"
But the video, posted on Thursday night, has some way to go before it reaches the popularity of the police version, which has had seven million views since being posted on Monday.
The police version also challenged law enforcement departments around the world to do better version - and has since received reply videos from the NYPD and Police Scotland.
The Running Man Challenge trend involves people posting humorous videos of themselves doing the dance called the "running man" to the '90s song My Boo by the Ghost Town DJs.