Firebirds down Pulse in netball

NZ Newswire
11/04/2016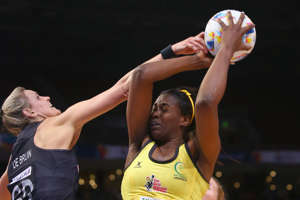 © Getty Images/Mark Kolbe Romelda Aiken The Queensland Firebirds are one win away from a major milestone after dismantling Central Pulse 61-45 in their round two trans-Tasman netball clash in Brisbane on Monday night.

The 16-point victory was the Firebirds' 15th on the trot, equalling their previous best run achieved during their championship-winning season of 2011.
If the Firebirds claim victory away against the Melbourne Vixens in round three they'll not only break their own record, but also equal the Adelaide Thunderbirds' streak of 16-straight victories set in 2014.
The Firebirds atoned for their sluggish start in round one by dictating the tempo from the very first whistle and opened up a seven-point lead after the first quarter.
Central Pulse responded in the second stanza to bring the deficit back to six points, but they couldn't chip away at the hosts' advantage and trailed by nine at half-time.
The New Zealand side, who have never tasted victory over the Firebirds, couldn't halt the momentum in the third quarter and fell behind by 11 heading into the final period.
Led by Romelda Aiken (38 goals from 41 attempts) and Gretal Tippett (22 from 25), the Firebirds continued to pile on the pressure in the fourth quarter and ran away with a well-deserved victory.