First Festival hockey wins for NZ and Aust

NZ Newswire
3/04/2017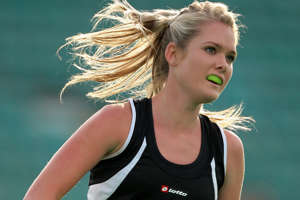 © John Walton/Press Association Samantha Harrison put the hosts 2-1 up before halftime. New Zealand and Australia have discovered some form in the third round of the women's Festival of Hockey tournament in Hastings, notching their first wins.
The Black Sticks became the first team to score more than twice in what has been a tight, low-scoring tournament, beating the United States 3-2.
Australia, who had drawn their first two games, beat leaders Japan 2-1.
A young New Zealand side found fluency for the first time after having lost 2-1 to Japan and drawn 1-1 with Australia.
The United States scored early but proceedings were level by the end of the first quarter and Samantha Harrison put the hosts 2-1 up before halftime.
Kelsey Smith made the advantage two goals before a lift in US intensity in the final quarter generated a late goal.
The world No.4-ranked Hockeyroos are the only unbeaten side thanks to first-quarter goals to Madi Ratcliffe and Jordyn Holzberger. Hazuki Yuda scored from a Japanese penalty corner in the final quarter.
A second series of round-robin games will be played to find Sunday's finalists.
Australia will face the US on Tuesday while New Zealand and Japan will square off.