Folau 'courageous' to stand up against 'PC-nonsense'

Radio New Zealand
17/04/2018
Former Wallabies Coach Alan Jones says it's time people "toughen up" and accept that Israel Folau is entitled to believe that gay people are destined to go to hell.
Jones, now a radio host, said while he did not agree with the Wallabies player's view, he was entitled to voice it and had to deal with the consequences of doing so. 
Folau, one of the game's highest profile players, replied to an Instagram question asking - "what's God's plan for gay people?" - with the answer - "Hell, unless they repent of their sins and turn to God."
Qantas, the named sponsor of the Qantas Wallabies, said its sponsorship would be reviewed if more such comments were made. 
Jones said it was wrong for organisations and corporates to speak on behalf of their organisations when people might held a different view, such as in this case. 
"It's a privilege to be involved in the sponsorship of a national team, and they seem to say 'we're entitled to a view but you're not'. What kind of world are we in? This is taking us back to the age of Stalin. It's a terrible set-up," Jones told Checkpoint with John Campbell.
"I think we need courageous young people like this to stand up to this politically correct nonsense that you've got to agree with what everybody else says. 
"You can only say what other people allow you to say and you're not allowed to have a different viewpoint, a controversial viewpoint. It's time we all took a spoonful of cement and toughened up a bit."

Rugby Australia chief executive Raelene Castle said Folau acknowledged he had caused "grief to some people" but she declined to comment on whether he had agreed to tone down his views in his social media posts.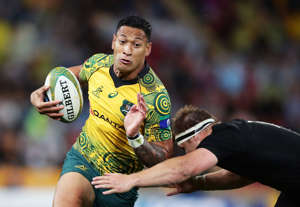 © Matt King/Getty Images Israel Folau of the Wallabies. The player responded saying he felt she had misrepresented his position and he would never compromise as his faith was more important than his career. He offered to leave if Ms Castle had felt the situation had become untenable. 
Rugby Australia declined to sanction Folau over his comments, but said it had a "policy and position of inclusion and using social media with respect".
Jones said the reaction to Folau's comments had gone too far.
"There are far more important things for Rugby Australia to be talking about than this. They're broke, they can't win a game against a New Zealand province, and here they are buying into an argument with a player."