Fonterra increases payout forecast

NZ Newswire
23/05/2017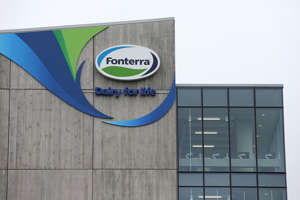 © Fiona Goodall/Getty Images Fonterra head office in Fanshawe St, Auckland on March 23, 2016 in Auckland, New Zealand Fonterra has increased its forecast farmgate milk price for the current season by 15 cents to $6.15 per kilogram of milk solids.
"World dairy prices have risen in recent months and as we near the end of the season we have more visibility and certainty which makes us confident of our $6.15 position," chairman John Wilson said on Wednesday.
Fonterra also confirmed its forecast earnings per share range of 45 to 55 cents for the 2017 financial year. It is aiming for a full-year dividend of 40c.
A forecast cash payout of $6.55 for a 100 per cent shared-up farmer was "good news for our farmers and their communities" Mr Wilson says.
Fonterra is also predicting a farmgate prices of $6.50 for the 2017/18 season.