Fonterra tipped to lift farmer payouts

NZ Newswire
7/12/2016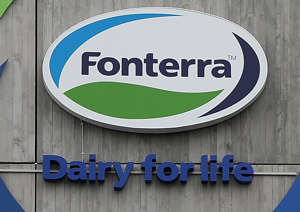 Fonterra is expected to lift its farmgate milk price payout to farmers after a further gain in global dairy auction prices overnight.
New Zealand's dominant milk processor hiked its milk price forecast last month to $6 per kilogram of milk solids for the current season, compared with $3.90/kgMS last season.
Analysts in a BusinessDesk survey expect it will raise the price further as dairy prices continue to lift on the GlobalDairyTrade auction platform. Analysts are now expecting the payout to be between $6 and $6.50/kgMS.
Prices for whole milk powder, New Zealand's key commodity export, increased 4.9 percent to $US3622 ($NZ5097) a tonne at the latest GlobalDairyTrade auction overnight, taking the gain since early July to 74 per cent.
Prices have now risen above the level needed for most dairy farmers to break even, following two consecutive seasons of losses, amid lower supply.
"The spike in dairy prices since July has got legs," said ASB senior rural economist Nathan Penny. "Dairy supply has fundamentally corrected, leading to a similar correction in prices. And the auction overnight has seen the price surge further solidified. If anything, we see prices going higher."
Westpac senior economist Anne Boniface also raised her forecast following the GDT uplift overnight to $6.20/kgMS from $5.80/kgMS.
BNZ senior economist Doug Steel raised his forecast today to $6.40/kgMS from $6/kgMS, and noted the price could go higher if global milk supply continues to contract more than anticipated.
Fonterra is holding its annual meeting in Darfield on Thursday and analysts raised the prospect it could hike its forecast again.
The increase in Fonterra's forecast is estimated to add an extra $3.8 billion to New Zealand's economy.