Foran wants apology after slur

NZ Newswire
5/05/2016
#BREAKING: @TheParraEels captain Kieran Foran is launching legal action against KIIS-FM. @Danny_Weidler #9News https://t.co/56XWYxGMoF

— Nine News Sydney (@9NewsSyd) May 5, 2016
Parramatta rugby league star Kieran Foran and his former partner Rebecca Pope have demanded an apology and retraction from Jackie Henderson after the KIIS FM radio presenter insinuated he was not the father of one of his children during her radio program.
Foran, who recently split with Pope and is currently in a rehabilitation clinic after reportedly overdosing on prescription medication, issued a statement to the Nine Network through his legal representatives.
"Statements were made by Jackie O suggesting that our client's child was not his," it read.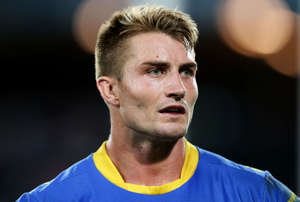 © Mark Metcalfe / Getty Images Kieran Foran of the Eels looks on during the round three NRL match between the Canterbury Bulldogs and the Parramatta Eels at ANZ Stadium on March 18, 2016 in Sydney, Australia "This statement gave imputations that the former partner of our client committed adultery during their relationship.

"That imputation is defamatory, completely false, untrue and lacking any merit.
"We are instructed to request that you submit a clear apology and retraction to Mr Kieran Foran and Ms Rebecca Pope."
The pair expected the apology to occur on Friday morning on the Kyle Jackie O Show, The Nine Network reported.