Ford recalls cars over fire risk

NZ Newswire
30/03/2017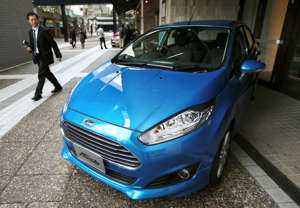 Almost 1000 Ford Kugas and Fiestas in New Zealand have been recalled because their engines are at risk of catching fire.
The recall affected approximately 911 2012-14 Ford Kugas and 69 2013-15 Ford Fiesta STs equipped with 1.6-litre GTDI engines, spokesman Tom Clancy says.
"No other Kugas, Fiestas or other Fords are affected," he said.
"In the affected vehicles, a lack of coolant circulation could cause an engine to overheat, resulting in a crack in the cylinder head.
"A cracked cylinder head can result in a pressurised oil leak. Oil that comes into contact with a hot engine surface increases the risk of a fire in the engine compartment."
Globally, 464,800 Fords have been affected by the issue.
In Auckland last December, a fire in a 2013 Kuga owned by Eden O'Connor gained media attention.
Ms O'Connor was reported to have been travelling with her children and grandmother when she noticed an emergency light on her dash and pulled over, according to Consumer NZ.
She then saw flames coming from under the bonnet and rushed to get her children out of the car's back seat.
Mr Clancy said Ford was "aware of two reports of fire associated" with the coolant systems in New Zealand, but no injuries had occurred.
The New Zealand recall of cars will take place in two stages.
During the first recall from April to June, dealers will replace the cars' coolant bottle and cap and reroute the "turbo coolant return line".
The second recall will take place between October and December with dealers installing a sensor to measure the coolant level and act to "reflash the PCM and instrument cluster with updated software".
"Customers can continue to drive their vehicles but should see their dealer if their vehicle exhibits a coolant leak or overheating or frequently needs coolant added," Mr Clancy said.
Ford will contact affected customers at each stage of the recall.