Foreign warships head for Kaikoura

NZ Newswire
16/11/2016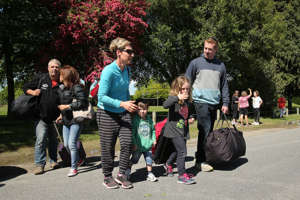 Warships from three nations are about to join the Kaikoura evacuation operation.
Their helicopters will fly alongside those from New Zealand Navy ships which by late Wednesday had taken out about 600 people, most of them foreign tourists.
Monday's 7.8 magnitude earthquake cut Kaikoura's road and rail links, leaving more than 1000 visitors stranded.
HMNZS Canterbury left Kaikoura with about 450 evacuees on board late on Wednesday and was due to arrive in Lyttelton early on Thursday.
"The New Zealand Defence Force has now evacuated about 600 people from Kaikoura," said Acting Civil Defence Minister Gerry Brownlee.
"Evacuations will continue for as long as necessary and as of tomorrow, several ships from other nations will arrive off the Kaikoura coast ready to be mobilised."
Those ships, due to arrive on Thursday, are American, Australian and Canadian warships that had arrived in New Zealand for the navy's 75th anniversary celebrations in Auckland.
As the evacuation continues, work will go on to open an inland road link into Kaikoura from the south.
"At this stage, it's hoped the route will be cleared by the weekend," Mr Brownlee said.
NZDF all-terrain vehicles are currently using it but the road isn't yet fit for civilian cars.
Prime Minister John Key on Wednesday visited Kaikoura for the second time since the earthquake, returning to tell reporters State Highway 1, Kaikoura's main road link, was buried.
"The mountain has literally moved, there's a tremendous amount of rubble," he said.
"It will have to be moved and then the mountains and hills behind it stablished - there's no quick fix for this."
Mr Key spoke to stranded tourists and said they were out and about enjoying their experience.
That was backed up by English couple Karen and Robert Corbett, from Liverpool, after they had been flown out.
"The New Zealand people and certainly people in Kaikoura were absolutely fantastic - their support and organisation was really good," Mr Corbett said.
Meanwhile the government is working on a support package to help local businesses get through the disruption, with an announcement expected in the next 24 hours.