Founder of Corona beer firm makes everyone in his tiny home village a MILLIONAIRE in incredible gesture

Mirror
25/11/2016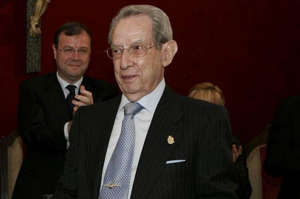 © Mirror Antonino Fernandez of Corona beer gave his fortune to his hometown (Photo: Daily Mirror) The founder of Corona left a lasting legacy when he made everyone in his hometown a millionaire. 

After making his millions brewing lager, Antonino Fernández Rodríguez wanted to give back to the poverty-stricken town of Cerezales del Condado , Spain.
So when he died, Antonio gifted £2 million to each resident in the hopes they could too enjoy the wealth he did.
The Corona owner died earlier this year aged 99, after founding the company in 1925.
The billionaire - thought to be worth £169 million - gifted the money to around 80 residents.
Bar owner Maximio Sanchez told the Diario de León newspaper: "We never had any pesete (money) before.
"I don't know what we would have done without Antonino."
Antonio was apparently honoured by the late King of Spain Juan Carlos, reports the Lad Bible . 

He has also financed a cultural museum in his hometown which will be opened by a Spanish non profit organisation.
Antonio also founded a company called Soltra, which is dedicated with finding jobs for disabled people.