Fox Glacier body recovery wait continues

NZ Newswire
5/03/2017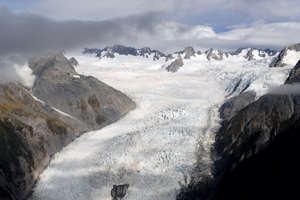 © Chameleons Eye/Rex Shutterstock Aerial view of Fox Glacier on the west coast of New Zealand. Police are still waiting for a gap in the weather to begin the recovery of a body found in a crevasse at the West Coast's Fox Glacier.
They were last weekend alerted to the discovery of a body by a tramper and said they believed it had been there for "some time".
However, efforts to reach and recover the body were halted after clouds closed in, with the outlook poor for the remainder of the week.
On Monday morning, police were waiting for daylight before making a call on whether the weather would be good enough to proceed, a spokeswoman said.
"Once we can get to the scene a post mortem will be required to identify the remains," West Coast Search and Rescue coordinator Sergeant Mathew Tailby said.