Freelancer.com Pays $3.2M To Buy Digital Marketing Marketplace, Warrior Forum

TechCrunch
15/04/2014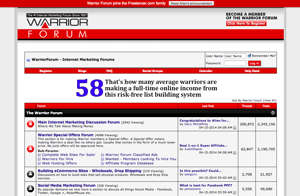 Job outsourcing marketplace  has put down a portion of the money it raised from its last fall on buying , a marketplace and forum for digital marketing professionals.
, with the aim of raising ~$14.2 million — noting at the time that it intended to use the IPO funds for organic growth and also acquisition opportunities.
It confirmed today it's spent $3.2 million to buy the 732,000+ member strong marketing community site, Warrior Forum, where marketing professionals swap intel on topics including SEO, mobile marketing, social media, ad networks and more. More than 7.2 million postings have been made to the forum since it was founded, back in 1997.
Freelancer.com said Warrior Forum will be run as an independent site, post-acquisition, with its new parent contributing resources and a dedicated team to help fuel further development of the community site.
Freelancer.com, which was founded back in 2009, has acquired several companies over the years — including tech freelance jobs site  and IT marketplace , both in 2012. More recently (this March) it picked up Polish freelance marketplace, Zlecenia.przez.net.